It is not a secret that reading is still one of the most delightful pleasures of humanity. It is an activity that encloses you in a moment of introspection and intimacy with the book, giving you an opportunity to put reality aside and disconnect. In Turin, one of the cultural capitals in Europe, there are several places, quite particular, that offers a new experience for readers of all types. The list covers almost every taste: coffee shops libraries, environments with classic/royal stile,  books in their original language or with a specific literature categories. Some of them host authors and speakers, others offer to their clients cultural events and presentations. In general, these places captivate their visitors with originality and good contents, never loosing the focus in offering a corner of knowledge and distress.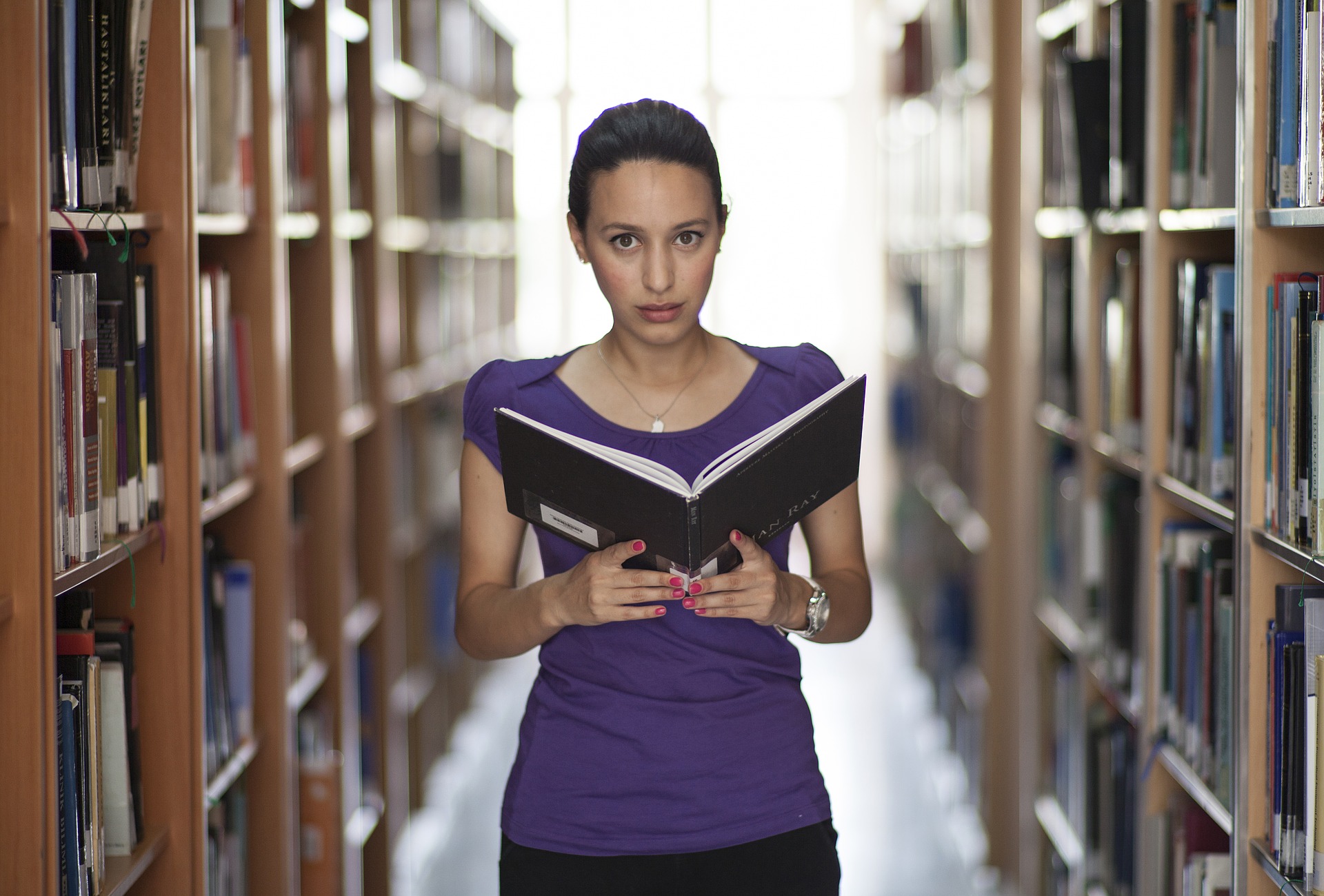 For some, these urban spaces are a great method to make people closer to literature. Bookstores need to revitalize themselves in this new digital era, and this can be done by offering not only a good catalog of books but also a cozy environment to slow down life rhythm. Nevertheless the risk is big, principally because of their struggle against bigger chains that take big profit through discounts and marketing strategies. But book lovers keep betting on this passion and in new ways to enjoy it.
Luxemburg
Via Cesare Battisti, 7, 10123 Torino TO. Tel: 011 5613896
For both its history and peculiar content, Luxemburg Library represents a unique place in Turin, welcoming readers from different nationalities and interests. Its growing popularity gave it a remarkable internationalization so  in 2015 it was named one of the 10 most beautiful world libraries by the Argentinian newspaper El Clarin. This award is easily justify by different facts: the fantastic environment with the warmness of an english old library, a musical background of jazz and classical pieces, many historic posters distributed all over the space, magazines and newspapers from different countries and, most of all, the carefully selected book catalogue in diverse languages, as English, Spanish, German, French, Japanese, Russian, Polish, Chinese and so on. This cosmopolita characteristic allows tourist and foreigners to embrace culture and the possibility of communication in a cozy and homely two floors building.
Opened in 1872 it is the oldest library in Turin, and its speciality is angloamerican narrative. Nevertheless, Luxemburg covers many other themes as art, novel, fantasy, religion, photography, agriculture, fiction, languages and tourism. The only ones that would never be found here are technical and craft books.
Marco Lupo, one of the responsibles, assures that they don't only share books, they help people: "Talking with visitors from other countries and cultures, or help any of our clients with their selection, is the most important thing we can do, is our main service. We want to improve the communication. Our costumers want to talk to us and receive advices about what to buy, they don't want to buy in Amazon anymore."
For Marco, attending persons from Asia, Africa and remote parts of Europe is a common experience in Luxemburg, so for everyone coming from abroad it is a "must-go" point.  Also, the library organize several book's presentations and events, with the aim of diffusing knowledge and the pleasure of reading.
Regarding other services, the team will not only advice about literature, but also about cultural activities taking place in Turin. Therefore, visitors can find wifi connections and make special book orders. No food is sold on site.
Bardotto
Via Giuseppe Mazzini 23 – 10 123 TORINO
tel. 011 / 88 50 04
Cozy, illuminated, happy and full of books, those could be the first words that comes to the mind of someone entering in Bardotto. This bistrot library, opened in Turin during 2015, seeks to bring to its visitors the best reading environment accompanied by different dishes, deserts or relaxing drinks. Also a place to meet with friends, or where to enjoy a cultural event. In few words, Bardotto offers a necessary refuge for those who needs good energy and good food around book pages.
This library and all its fusion is far from being aseptic; on the contrary, provides a lot curiosity. Narrative, history, science, for kids, science fiction, graphic novels, art and tourist guides; their options are many except for politics, crafts and school books. It is also possible to check them without buying them, while you drink a cup of coffee. Their speciality is international literature in Italian language.
On cultural events Bardotto is positioned as a meeting point for artist, book translators, writers and so on. The sensation of feeling at home or in total trust makes possible the continuous encounters between the public and festival organizers or locals authors, who come to the library to promote their work between Turin's readers.
Ruben and his sister Deborah Tagliacozzo are the owners of Bardotto. He is an economist and she is an engineer, and even if they come from different careers, the goal is the same: "To bring people to a meeting point and a place to enjoy through books, food and other activities." For them these are hard times for librarians, the business is not so easy and people are not so enthusiastic about reading with constancy; but that's why it is so important to innovate the relation with culture, giving each person the opportunity to immerse in the sensation of paper.
As a bistrot library, Bardotto offers a long list variety. On food, there are breakfast, starting at 9:30 am, lunch without red meat, appetizers, and dinners based on tapas. Cocktails also have a place in here, as a big selection on Italian wines, especially from Piedmont area. And of course the "so necessary" desserts, tisanes, coffee and hot chocolate, which also represents the atmosphere of the place. Wifi is available for clients and also city maps. Besides, even if they don't have books in other languages than Italian, all of them speak english for the many foreign visitors they receive.
Il Circolo dei Lettori
Torino – via Bogino 9
+39 011 432 68 27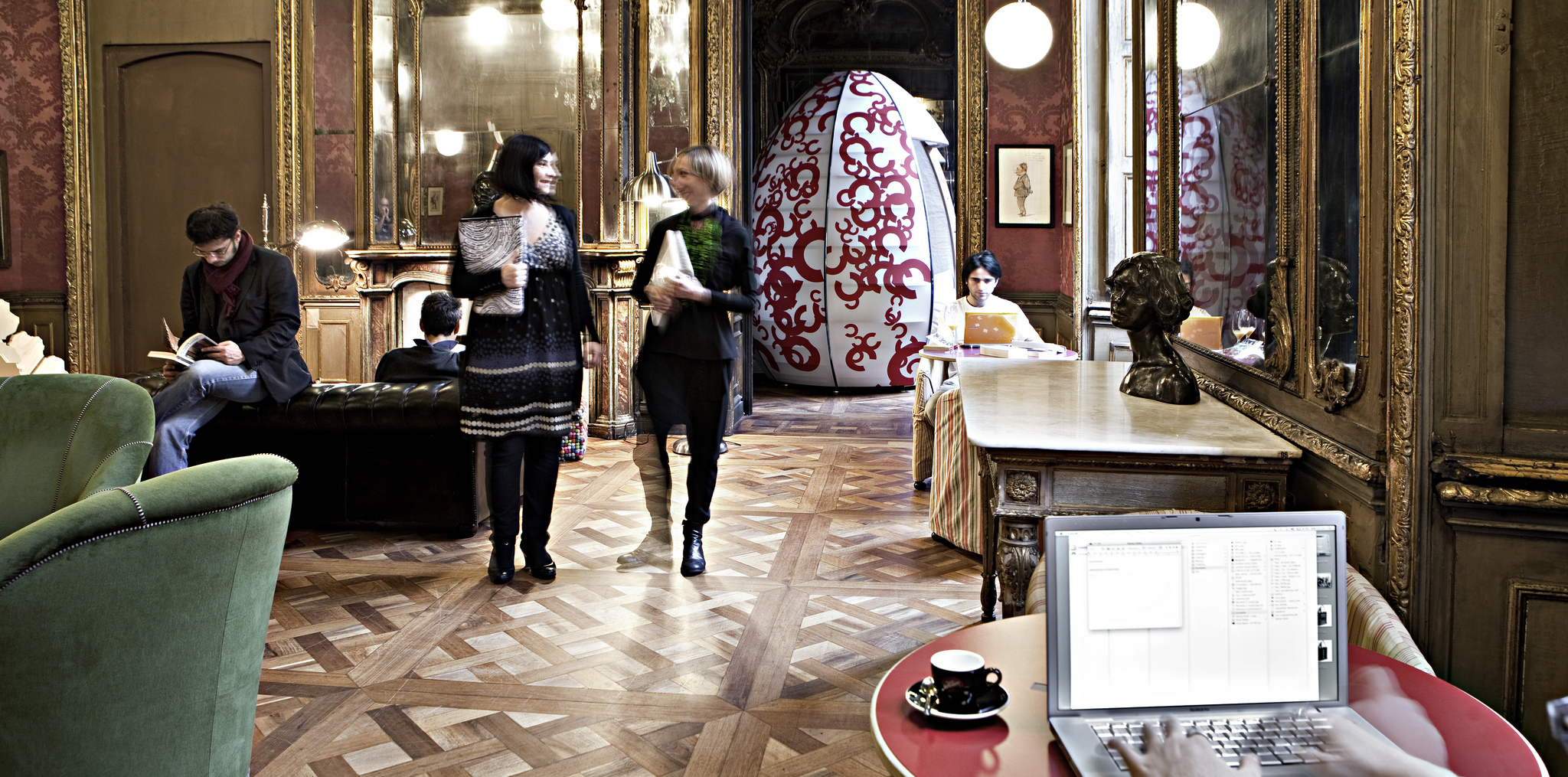 Baroque art, elegance, the seduction of a neoclassical atmosphere, space… yes, a lot of space. The readers circle is located since 2006 in the famous Palazzo Graneri della Roccia, a structure built during the XVII century by the architect Giovanni Francesco Baroncelli, becoming later, in 1858, the headquarters of The Artist Circle. A monumental and large staircase leads to this astonishing place, consisting on different rooms like the Sala Grande, Sala Gioco, Sala Filosofi, Sala Lettura, Sala Musica, Salotto Cavour, Sala Artisti, Sala del Biliardo and the Salotto Cinese; all of them keeping the characteristic vintage decoration.
This is not a place to buy books, but to enjoy them. It doesn't matter if you go for a pleasure reading, or to work in your laptop, or just find some inspiration to write, Il Circolo dei Lettori is the place of reference to welcome inspiration and feel in confort. Lot of newspapers are available for visitors also the instituion's brochure to know Turin's cultural program.
With around 120 events per month, this place promotes culture for people of all ages, allowing them to meet famous and new writers from Italy and abroad; also sign up for a course (all of them of different areas of knowledge), enjoy literature shows, festival presentations or participate in reading groups. All the events with foreigners have a respective Italian translator. The Readers Circle also hosts well known festival in the city, like Torino Spiritualità and Voce del Verbo Moda.
Food and drinks have also an important role to play. The famous Barney's Bar offer classical Italian dishes for any time of the day, and also tea, desserts, coffee and cocktails from 9:30 to 21:30. The restaurant is another place in the gallery of the palace with a peculiar decoration, full with portraits of Piemontese artists. Most of their dishes are, as well, from the local tradition of Piedmont and the preparation is lead by the chef Stefano Fanti. Their menu offers different drinks and an special degustation for demanding tastes.
The direction of the institution assures that The Reader's Circle is a reflection of Turin, since the city is very linked to culture, cinema, literature and music. And because many international festivals or events take place in here and innovation is a constant factor. The direction also states that tourists have an open door in there to enjoy and get immersed into the cultural environment. Everybody can arrive whichever day to drink, eat, read or follow an event.
MOOD: Libri & Caffè
Via Cesare Battisti 3/E, 10100 Torino
Caffetteria +39 0115188657
Libreria +39 0115660809
As soon as you enter into this local, the colors, the disposition of books and the relax energy inside invites you to enjoy more of this great atmosphere. A pretty special bistro library in the heart of Torino, with an open space to eat, drink, meet people and, of course, to get in the mood of reading.
Mood was created on 2002 with the idea of being a library. Later, Massimo Traversa, its owner, re-thought the philosophy of the place to be a point of reference for cultural initiatives. Besides, his passion for food was an important impulse to the main concept, and being in Italy provides a big importance to the act of eating. "The fact of having a library with a bar allows you to organize shows and events related to food and literature. Mood has that connection. In this country you don't eat only to stop being hungry, but because it represents something."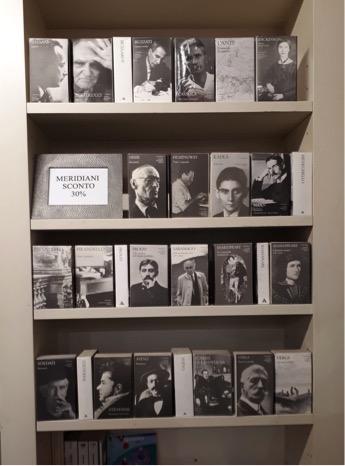 Returning to books, the catalogue of this special bookshop is not only big but with personality and variety. Classic, fantasy, romance, fiction, juvenile, for kids, philosophy, history and poetry, which is their speciality. What you will not find is humor, sports and technic. Their offer has been changing since their start, that's why novelty doesn't have a place in Mood. For the owner, Massimo, most of the commercial literature dies quickly, because it is mostly fashion. They prefer to stay with a more specific and demanded material, that's to say literature of author,  keeping common clients that know what to buy and where to find it, and also those who want to discover something new. "Some of our clients look for special categories, and others come here to make book orders. I want to keep a catalogue more perdurable on time" he said.
Another important point is their cultural agenda. Artists, photographers, writers and even musicians come here to share with the audience. Different rooms host the activities, and the smaller, downstairs, is commonly used to book's presentations.  In terms of the clients, people from every age find a place in Mood. It is common to see students, seniors and workers who find a moment in their busy day, disconnecting with a background of jazz, classic rock and so on. For tourists who want to explore the place or the surroundings, they can find help regarding city advices, free maps of Turin, wifi and a personnel speaking different languages.
Drinks, food and desserts. Something that cannot be ignored in this bookshop. From 8:00 to 21:00 visitors can enjoy great coffee, a good selection of tisanes, national and international cocktails named as famous writers, interesting wines from Piedmont and other places of Italy, beers and spumante. The dessert is always fresh and lunch time is important, with a first and a second dish plus many salad options. All of this with great quality and a professional kitchen team.
AUT
Via Giuseppe Barbaroux 8 10124 Turin
Between a similitude of styles and structures appears this unusual place in where diversity emerges.  AUT is an independent library that offers a completely new concept in Turin, full of personality. Here you will find books that can hardly be seen anywhere else, especially about politics, society and environment; but also thematics as romance, sport, narrative, books for kids, fiction and art. A catalogue that brings new ways of seeing life and society, with other paradigms to meditate about. In general, it is a place that celebrates the plurality of voices and perspectives, far away from being in the trending list.
For Davide Ravan, the owner of AUT, the main goal of his site is to provide more political awareness between people, more consciousness about what is happening in our world: "It is important to know for whom you vote and why. Without distinction of ages, it is necessary to understand our reality" he assures.  The publishers this library works with are also very exclusive, offering only books attached to their principles. Among them, there can be found Eris, Urbone, 66thand2nd, Sur, Infinito Edizioni and so on.
In AUT, the environment makes you feel at home or at your best friend's house. A musical background of Punk, Reggae, Ska, or another alternative style helps to take away your worries, exploring the intern of the place. Some tourists enter to buy something peculiar or just because of curiosity. It is simply impossible not to notice the several posters with antiracist messages or about social and ecological movements. 
Regarding alternative activities, the place has an interesting list of options. Clients can enjoy their readings in comfortable armchairs, participate in book presentations or events once per weeks, enlist into social projects or meetings and relax in the "serata di vinile", in where people shares a fantastic night playing vinyls, from AUT or from their own, and connecting ideas. Additionally, it is possible to find wifi, or to buy t-shirts from diverse social campaigns.
To be more known is one of this place's objectives. Independent libraries like this one doesn't support themselves through marketing, so they relay on people spreading the information or mentioning them on the social networks. Supporting local projects like this is, without doubt, a plus to the cultural diversity.
Article by Victoria Dos Santos
The following two tabs change content below.
Commenti dalla Rete