From San Maurizio D'Opaglio, a small town next to the Orta Lake, in the north of Italy, Huber Cisal Industrie goes everywhere in the world, and this week, from 23 to 27 september, it will be at Cersaie 2019, with its collection of successful mixers and shower mixers.
For HUBER there are the Harlock, Nuova Ego, Chronos, Lynox, Dado, Dado Cascade, H3 e SUITE collections.
For CISAL, there are the Nuova Less, Vita, Cherie, Roadster Accent, SLIM, Less Mininal, Cubic, Arcana, Linea Viva collections.
The place in the fair in which you'll be able to visit Huber Cisal Industrie will be at Hall.29 stand A38-B39.
With more than 650.000 thermostatics produced per year, which means the first company in Italy, Huber Cisal Industrie exports in 53 countries in the world and its Made in Italy production makes the group one of the most important companies in Italy.
Huber Cisal's success is defined by the quality of its production.
"Our goal – explains Maurizio Huber – is to design and develop with our office a high tech product, which can fit to any market niche"
"Cersaie – says Maurizio Huber, who's leading the company along with his brother Alessandro – to us remains a historical event and the first partner for exposition events in the world. As always Huber Cisal will show a new tech products, which is the one box shower system, and a high design product, the great completion to Karim Rashid's work with the Vita Collection, which we expect to have a huge impact".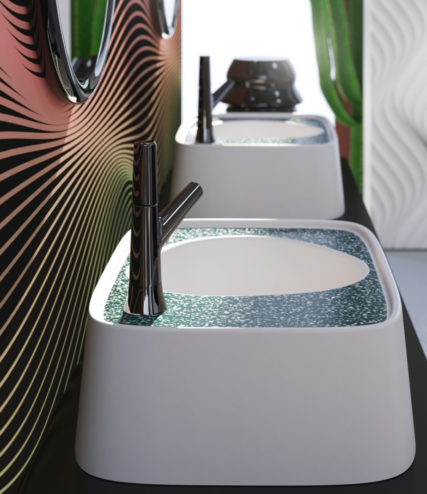 Talking about Karim Rashid, the world class designer will be at Cersaie in the Relax Design section, hall 30 stand D16-E17.
Karim Rashid has been invited by Cersaie to show its vision about bathroom with 3 different installations: DUO, META e PEBBLE. This last one uses a technology to create almost terraced patterns in the products and will be hosting some samples from the vita collection.
Cersaie is the most important international event for those who are in the surface business, ceramics and other materials. It's well shown by more than 112.000 visitors last year, more than half from all over the world.
These yeas the fair will be even more shining with 161 square maters of exposition.
Cersaie 2019

In a fair quartier heavily renovated, Cersaie has appointed to the bathroom sector, beside the historical 21 hall, also the freshly built new pavillions.
The following two tabs change content below.
Gianluca Orrù è scrittore, giornalista, produttore televisivo. Presidente di Tekla Television, fondata nel 2008, è alla quotidiana ricerca di belle storie da raccontare. Si appassiona di qualsiasi cosa abbia un minimo contenuto tecnologico, artistico, enogastronomico. Tifa per il Made in Italy e gli piacciono le cose difficili.
Commenti dalla Rete